Shipping & Returns
How to order strings from Gamut
Strings can be ordered from Gamut in several ways:
Strings can be ordered on-line; select the string type form the string catalog at left. You can pay for orders with Visa or Mastercard, PayPal, or print out an order form and send to us with a check. All payments must be made in US dollars.


Shipping Charges
Please note this important information about shipping
International customers please note that there may be import duties or taxes added to your order as it crosses the border. We have no control over the regulations of other countries. If this is a concern to you, please check to find out what the regulations are for your country regarding imported goods.
United States postal regulations require us to claim the value of the shipment, so we have to post the contents and the value on the outside of the package for use by the customs authorities. To not do so would be a violation of laws in both countries and would expose not only us to possible fines, but the receiving customer, as well.
So, for those who want to ask, no, we cannot send a package without noting the value of the contents on the package.
________________________________________________
Express Mail does not mean that we process your order any faster, simply that the transit time for the order is less once it is mailed.
We try to accommodate the urgency of each order but can offer no guarantees for delivery times.
___________________________________________________________________
We process all orders as fast as possible and in the order which they arrive in the office.
___________________________________________________________________
First class will take 3 - 5 days to be delivered in the USA, 5 - 10 days for delivery in Canada and 10 - 30 days for delivery in the rest of the world. However, shipments to addresses outside of the USA may take longer, as they are subject to scrutiny by the border authorities of the destination country. If you want a fester service, please choose one of the other services. We can accept no responsibility for first class shipments.
1) Postal regulations specify that the value of a First Class Mail package cannot be over $400 USD. If you are outside of the USA and the value of your order is $400 USD or more, the package will have to use another service.
2) Please note that first class mail is not a very reliable or secure service and for that reason, we do not guarantee delivery on first class shipments. Should a first class mail shipment fail to arrive at the destination, we do not replace the order.
- You use First Class Mail at your own risk -
3) Shipments using all other methods will be replaced should they not arrive at the destination.
The software we use for the on-line store has recently added a function to link directly to the shipping service. With this system, the rate is going to change depending on your location, weight of the package, etc. so we can't give you a specific postage rate on this page. When you check out in the store you will be given a choice of:
1) First class mail
2) Priority mail
3) Express mail
4) FedEx air services
---
Payment Options
PayPal
If you don't have a credit card, or don't want to use one on the Internet, you can use PayPal which will take payment out of your checking account and bypass the credit card charges. PayPal payments should be directed to: payment@gamutstrings.com. To find out more about PayPal and to open an account with them, click here.
---
Credit Card
We accept Visa, Mastercard, American Express and Discover for payment.
If you wish to order with a credit card, you need to provide us with the following information:
Card holder name
Card number
Billing address for credit card, (including postal code)
Expiration date
Security code. This is also referred to as the CVV2. Please refer to the pictures below to find this number on your card: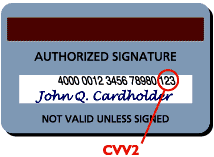 Visa / Master code location


---
Checks
If you want to send in an order with a check, you an make an order in the string store and select the "Check" or "Money Order" payment option. The order will be sent when the check arrives at the Gamut Music office.
The address for sending checks is:


Gamut Music, Inc.
1600 London Road
Duluth, MN 55812
---
Bank Transfer
If you would like to make a bank transfer for payment, please e-mail Dan for the bank information at: dan@gamutstrings.com.
Please note that there is a fee of $25.00 added to the invoice for a bank transfer. This is the fee that our bank charges us for the service.
---
Cancelled orders
If an order is placed in the store and then cancelled, the money will be refunded except for 10%, which will be held back to cover the costs of the credit card fee. We have to pay this fee for each transaction and the credit card companies do not refund this to us, even if the order is cancelled, so we have to retain this amount to cover the costs of the transaction.
---
Timely Order filling
Orders received at Gamut Strings are usually filled and shipped within 3 - 5 business days. If the order is a large or complicated one, or, if we don't have an item in stock, it may take longer. If the time before shipping is estimated to be longer than 5 business days, we will contact you with an estimated shipping date.
The workshop is not operational on Saturdays and Sundays, or major national holidays.
This applies to orders using FedEx and Express mail as the shipping method. The cut-off for same day shipping is 11:00AM Central time.
Please note that, because of changes in the postal pick-up schedule for Duluth, orders sent by post will have an extra day added to the transit time.
Please make note of any special messages on the front page of the string store before ordering.
---
Return Policy
* Unused strings may be returned for refund; however, there will be a 10% charge on the items returned. Used, but faulty strings will be replaced or may be returned for store credit which may be applied to future orders. Credit for defective strings will be given when we receive and inspect the string in question.
* STRINGS MUST BE RETURNED WITHIN 90 DAYS OF PURCHASE TO RECEIVE A REFUND.
* Gamut does not reimburse for the return shipping expenses and all of those costs will be paid by the customer.
* Credit will be issued to the customer 3 to 5 business days of Gamut Strings receiving the returned goods at:
Gamut Music, Inc.
1600 London Road
Duluth, MN 55812
* Please note that strings ordered with store credit cannot be returned for another credit.
---
Privacy

Gamut Strings Privacy Policy Statement
Gamut Musical strings is committed to providing quality information and products to the musical community. In order complete this mission and serve our clients, we will have to find out a little about you and your instrument. For the purposes of data protection, gamutstrings.com is the internet publishing platform for Gamut Musical Strings. The web site is hosted in the United States. Gamut Musical Strings is a sole proprietorship and is wholly owned by Daniel C. Larson, Duluth, MN USA, who is completely responsible for all content.
What information do we collect?
When you come to visit our web site, www.gamutstrings.com, we do not collect any information from you pertaining to your visit. Our server does register the number of hits each page on the site receives, but this is done completely anonymously and no attempt is made by the site to collect user data. When this information is collected you have a choice to create an account on the website, or not. If you decided to create an account, all of the personal information you put in will be stored on a secured server. This information will be recalled on subsequent visits to the web site to make your purchase and checkout faster. If you decide not to create an account, you can make a purchase by filling out the forms which will be sent to the office of Gamut Music in Duluth, MN over a secured server, but the information will not be retained on the server.
Cookies
We use to recall the information stored in your web-store account, provided you have created an account in the web store. This cookie information is used only to retain information pertaining to your account. Other than that, we do not use cookies to track your visit to the web site, or otherwise gather information on your visit to the site.
What about the information requested?
Please note if you decide to utilize the Gamut String Store and order strings through the web site we will need to collect personal information so that the strings can be billed, paid for, and sent to you correctly. This information includes your name, address, phone number, e-mail address, and credit card information. This is information that we use to communicate with you concerning your order.
The Gamut Strings e-mail list
Gamut strings does maintain a list of e-mail addresses of customers. This is used to occasionally send informational messages to our past customers. These messages contain news or other information about Gamut Strings products such as strings and instruments. If you receive one of these messages and want to be taken off the list for subsequent mailings, you can unsubscribe and your name all be taken off the list. Unsubscribe instructions are sent with every message. This list and your e-mail information is never passed onto any other party for any reason and the addresses are stored in a list with no other data, such as a name, associated with it.

Your privacy is important to us
We strive to do everything we can to protect the privacy of our users. We do not sell or exchange any information with any third parties.
From time to time, we may use customer information for new, unanticipated uses not previously disclosed in our privacy notice. If our information practices change at some time in the future we will post the policy changes on our website to notify you of these changes and provide you with the ability to opt out of these new uses. If you are concerned about how your information is used, we recommend that you review this Privacy Statement periodically, Gamut Strings may update it from time to time.
If you would like to ensure that you are not contacted by us as a result of having used our site, please contact us at gamut@gamutstrings.com
If you feel that this site is not following its stated information policy, you may contact us at
gamut@gamutstrings.com We will be sure to address your concerns.
We can be reached via e-mail: gamut@gamutstrings.com
Purchasing by credit card
In order to confidently verify your credit-card purchase, we have to ask you to present your details in a very specific way.
Here are some tips to help you ensure that your details are entered correctly:
First and last name: Your name must be entered exactly as it is printed on your card and statement.
Address: This must be entered as it appears in your credit-card records.
State/Province: Only complete this field if you have entered 'US/Canada' as your country.
Telephone number: Non-numeric characters are ignored by the verification system, and consequently it will not matter if you insert hyphens, spaces or leave blank spaces in between the numerals.
Credit card number: Non-numeric characters are ignored by the verification system, and consequently it will not matter if you insert hyphens, spaces or leave blank spaces in between the numerals.
Expiration date: this is the date at the bottom of the card given in the format 00/00
CVV2 Code: this is the last three digits in the signature stripe on the back of the credit card.
Information about secure ordering online
We are committed to ensuring the security and privacy of information supplied by our customers. The site uses a secure server that encrypts all your credit-card information to ensure that no one else can view the details. The security of the connection will be confirmed by the presence of the padlock icon in the lower right hand corner or lower left hand corner of your browser. When this information is transmitted to Gamut Strings, we store the credit card information of the office computer for long enough for your order to me completed and received by you, usually four weeks, then the data is deleted from the machine. Consequently, if you want to make subsequent orders, you will have to either create an account which will store the information for future use, or input all of the information again.